PLEASE NOTE: This page contains amazon affiliate links. As an Amazon Associate I earn from qualifying purchases.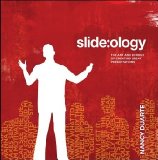 I love this book. I think it is one of best books I ever read – in general not only on the subject of (presentation) design. Yet, when I took a look at the some amazon reviews I was a bit confused about the negative reviews… then I realized. This book isn't for anyone. I guess this stems from the fact that most people want a magic pill, when it comes to presentations and their slides. If you have a presentation to do for your boss, a product presentation or anything where you need a fast result (=you don't want to invest at least 20 hours of work) don't buy this book. This is a profound book for learning, understanding and admiring the trade of presentation design. If you are just hungry and need a quick snack to get going this isn't for you, this is book is about cooking and not a ready made meal.
On the other hand, if you are into learning, understanding and admiring awesome design and visualization slide:ology is YOUR book! The book is one of the few books, which are filled with useful information and it still feels like art. Every principle in the book is also applied in every line, every picture and every schematic in the book. Every concept is condensed in 2 or 4 pages. It is full of examples, comparison and tons of suggestions, e.g., all the different kind of schematics in an ordered and categorized fashion. There are sections about colors, typefaces, when and in what way to use pictures, etc. there is everything covered in this book and it offers more profound suggestions on any topic if you want to explore it further. If you like solid profound information with clear examples you will love this book.
One more thing, I personally read presentation zen before reading slide:ology. If you can choose only one I would suggest slide:ology, although it could be too profound for beginners.
Buy slide:ology: The Art and Science of Creating Great Presentations
at amazon.com
Other books about presentation design
Other books by Nancy Duarte